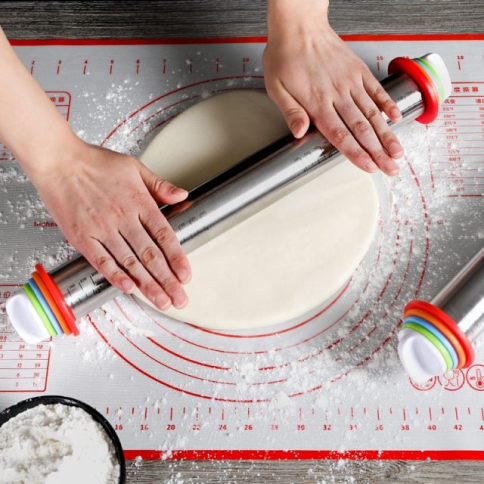 Create your craft with ultra-precision
Roll dough for pies, cookies, pizzas, and more to exact proportions with the ultimate baking assistant. Our Adjustable Stainless-Steel Rolling Pin measures 17 inches long  and features four removable rings: 0.4, 0.23, 0.1, 0.08 in (10, 6, 3, 2 mm) so you can adjust your dough-rolling to a certain width and height.
Colored and labeled
All four adjustment rings are colored and labeled for ease of dough length identification as you're ready to roll and create your pastries, bread, or dishes. The pin also has a readable scale labeled in inches and millimeters along the body for your width adjustment.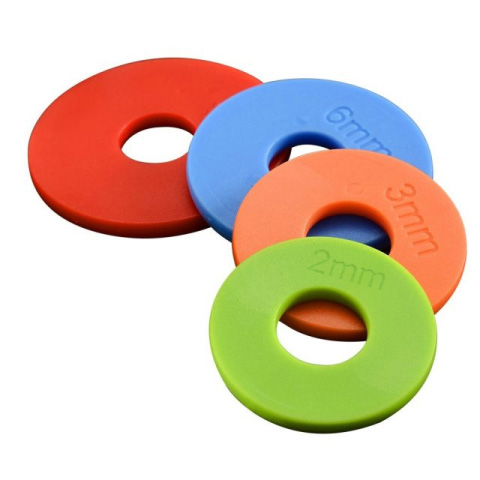 Sturdy + food-grade
Our Adjustable Stainless-Steel Rolling Pin is crafted from food-grade 304 stainless steel. The construction ensures the pin won't dent for any food-crafting while no flavors, smells or colors will be absorbed. Performs better than silicone- or wood-based rolling pins.
Easy to clean
The 304-stainless-steel pin is easy to clean -- just wash with water and dish liquid or pop it into the dishwasher. Do not put the adjustment rings into a dishwasher, however.
Roll for just about any type of food: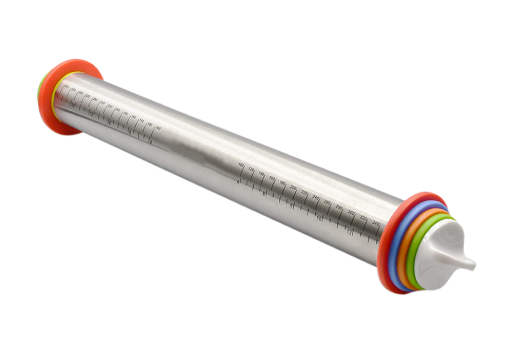 Reviews
Our reviews are verified for authenticity
At first glance it is perfect. Will test it this weekend. Recommend. For this price is perfect.

I'm going to go ahead and give it 5 stars even though I haven't used it yet. The reason for the 5 stars: – The rings are made of substantial, hard plastic. I was afraid they would be flimsy. They are not. – Other comparable products have 3 rings, this has 4. The 4th lets you make pizza dough (sizes are 1/16″, 1/8″, 1/4″, & 3/8″). – You can't fill it with water (like another product does) but you can put in refrigerator which will make working with dough better. The stainless steel should hold the cold quite well. – I mostly got it because I make cookies for the grandkids and getting even dough thickness makes baking more consistent (less burned cookies). I think it will be great for that. – Very substantial roller. I expect you can exert substantial pressure on dough when rolling (like when dough may still be cold and a little less pliable than you expected)

perfect little rolling pin, made rolling sugar cookies a breeze!!

I love this rolling pin! It's super convenient for me to make various foods from Pizza, Cookies to Chinese steamed bun(Baozi etc.). It doesn't stick and very good quality! Also, the mat doesn't get moved. The entire set is awesome! Easy to use and easy to clean.

This rolling pin is very sturdy and well made. I love that I can determine the thickness with the rings on the side. The mat is very nice for determining the diameter I need for pizzas and pies. I'm so glad I got this.

Quality product. The delivery was super fast, it's the first time that a package goes so fast. Other stores should take an example on you. I recommend this seller.

I liked it. The parcel arrived quickly, packed well, the track was tracked. Thank you very much to the store.

the shipment took a while to arrive but thats understandable due to the COVID-19 global effect. anyways, the box reached me a little damaged but nothing penetrating to the goods. so im happy.. and hopefully will get a good use of this dough roller

Great Rock Rock. It came whole, not damaged. Rings-limiters of different diameters. I haven't used it yet, but I like it very much. The shipment was long, but came very quickly

I wouldn't buy this again. Nothing wrong with it really but not very heavy for my application of rolling out paper clay.

My old wooden rolling pin had painted handles and the paint was flaking off so I needed a new pin. I really liked what I learned about these metal ones that you can control the height with the little sliding rings. The sliding rings are a variety of sizes and help keep the thickness of the dough consistent during the rolling process so I don't have to guess whether it's the same anymore.

I love the rolling pin. It is as long as I will ever need and the rings make rolling to the correct thickness so easy. I like that it can be chilled if you are rolling cookie or pastry dough. It's easy to put the rings on and take them off for cleaning. This is a great set and excellent price.

Rolling pin is easy to use and sturdy! I love how you can choose the height so you can control the thickness of the dough, so your cookies are always evenly cooked!

Easy to handle and stays cold which is handy for rolling out sugar cookie dough. You can even put it 8n the freezer if you want it really cold when rolling your dough. Rolls the dough out perfectly even with whatever size attachment you use. Makes for perfect cut out sugar cookies. Would buy again.

Super thing!!! Thank you The rolling pin looks nice and feels heavier than I expected. The height adjustment are exactly what I needed for cookies. Dough doesn't stick to the roller or the mat which is a bonus. The mat sticks will on the granite counter and the measurements are easy to use.

I love this rolling pin! It makes rolling my pie crusts and cookies so easy and they come out perfectly even every single time. The mat is a nice bonus coz it gives me a specific working area and the measurements printed on it are helpful too. I highly recommend it!

The parcel came quickly, the product fully corresponds to the description, thanks to the store, the seller I recommend and will contact more.

The material is steel, I haven't used it yet but it looks very good quality, the mat is made of silicone and is large. I recommend it.

product was same as advertised.. Good quality and store did a great job in packaging the items

Item just received today (11 June). Took a while to arrive, but received in good condition. Can't wait to start using it.

Seems well made and I love that the spacers are a hard plastic and not bendable silicone like most spacers. Dislike how short the rolling pin is and I'm fairly certain the markings will wear off with a few more washes but they're not super useful anyways since the start arbitrarily at center. Otherwise works for small things like pie but crap for rolling out large pieces of fondant.

It looks very good the product, in 20 days the very fast reception for the covi19 problem

Works great and so much easier to get the right thickness with the rings.

The quality is just chic! Delivery fast. I can only recommend.

For the price this comes in handy. Not the easiest thing to change settings on, water gets stuck inside it when you clean it, and I kind of wish I'd spent a couple more dollars on a better one but it does the job and well.

Perfect just as described. Very good for making thin pizzas. I also used for pastries and very good

Perfect, good size, adheres well to the worktop, very well packaged, serious store!

I ordered this for my granddaughter to use when rolling out sugar cookies. It was very easy for her to use and all the cookies came out the same thickness. One minor thing she did not like; the flour did not stick to the stainless steel, as easily as the wooded one she is used to using, so sometimes the dough would stick to the pin. We loved the mat that came with it. It completely stuck to the table, which made it easy for her to roll out the dough.

Genialissime! It was worth waiting... For homemade pasta and be able to choose the thickness! I highly recommend!

Great product. Nice quality. A little smaller than I expected so be sure of the measurements when ordering. The description was accurate, i just didn't pay enough attention.

Amazing item! All my cookies are the same thickness. Its so easy-to-use and clean. By far the best investment I've ever made!

it's easy to adjust for different thicknesses and is great for getting even dough (very useful!)

I purchased this to use on my pottery and ceramics slab-building and it works perfect. So far the quality has been great and you get a lot for what you pay for. Would purchase again.

This is a new must in my kitchen now. I don't use it a lot, but when I do, it's perfect! Having the different sized rings is useful. It cleans well.

The dough sticks to this but flour does not, Im going to stay with my wooden pin, this is one of the cases where technology doesn't translate well.

Good deal for this set with silicone baking mat, adjustable length roller, and thickness adjustment rings. I recently purchase just the mat at the store for $10. So for $5 more, I got this really nice adjustable roller. I like that the mat is silicone. I've been replacing all my kitchenware with silicone products. The roller was nice to use when I made dough this past weekend.

Great product, really happy with my purchase. I recommend it.