Baby Bottom Buddy Cream Applicator
Mess-free diaper cream application
Tired of hands and clothes covered in diaper cream? Or that smell that lingers for hours on end? The Baby Bottom Buddy makes the messy process of applying diaper cream simple, quick and clean. Use the included Type-B adapter and attach the Baby Bottom Head directly to prefilled tubes of diaper cream or fill the applicator with your favorite diaper cream or paste.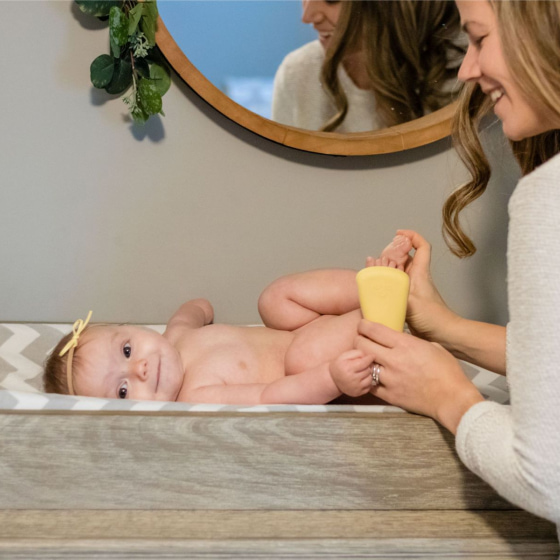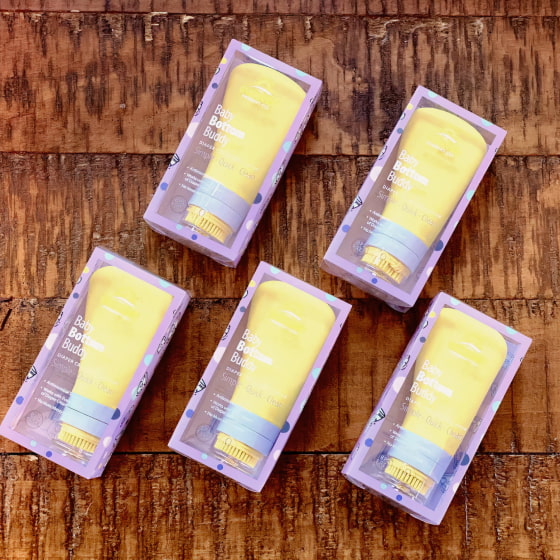 Squeeze - Swipe - Done!
Tackle messy diaper changes with the Baby Bottom Buddy
Ultra soft bristles
When your baby has a diaper rash, even the smallest of touches can be painful. Baby Bottom Buddy is designed to gently apply ointment to your baby's bottom. You no longer have to worry about accidentally scraping your baby's bum with your nails.
BPA free and antimicrobial silicone
Made from FDA approved BPA free food-grade silicone. The material is naturally antimicrobial, providing a bacteria-resistance surface while remaining sensitive on all skin types. It acts as a barrier between your hands and your baby to keep both of you cleaner and happier.
Travel necessity
This is the diaper bag necessity that makes on-the-go diaper changes fast and easy. It's also TSA-approved! The applicator is also leakproof which means you will never waste your expensive lotion, cream, or paste inside of your diaper bag or purse.
Works with any diaper cream
You can apply ointment, lotion, butt paste, and more with this useful tool. It's an all-in-one solution for applying and spreading diaper creams.
Details and care
The applicator can be wiped clean, boiled in hot water, wiped with a disinfecting wipe, and is even dishwasher safe! The Baby Bottom Buddy is the perfect shower gift for a new parent.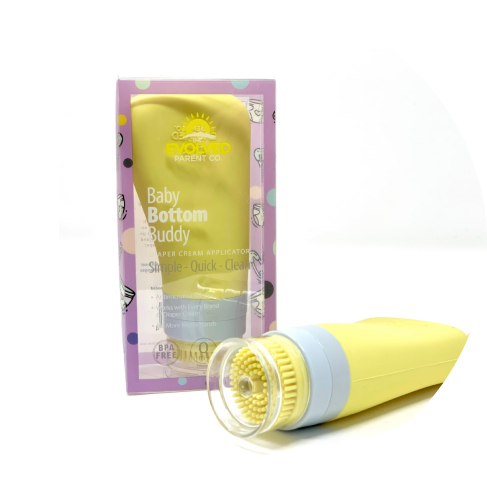 About The Evolved Parent Co
Like all parents, we love our little ones more than anything else in the world – even though this means "personal time" becomes an often limited, and sought-after commodity. With "time" in mind, we set out to develop a range of products that are not designed to reinvent the wheel, just to make life's daily tasks a bit easier and a bit less time consuming. Because let's face it, behind all the diaper changes, baths, feedings and sleepless nights is the most precious baby who needs every ounce of your love and attention.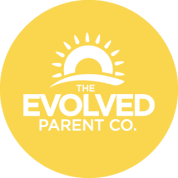 Designed In
New Hyde Park, New York
Reviews
Our reviews are verified for authenticity
Love this product! So easy to use and clean. You can put any of your favorite diaper rash creams in it. Perfect for on the go! I had a large tub of diaper rash cream and wanted something easy and small in the diaper bag for going out.

This applicator is a dream! I actually use it for my kids' lotions so they can apply the lotion themselves with ease. They love using this to rub their lotion in their skin without any messy application.

This product works really well to apply any diaper rash cream product. It is easy to fill and disperse the right amount. The applicator is soft, my baby doesn't seem to mind it when I'm applying her cream with it. It saves time not having to wash the cream off your hands and to me, is more hygienic. I also like the fact that the applicator can be cleaned. I like it so much I bought one for my sister to use with her baby and one for my daughter's daycare to have on hand.

We love this product! It's great for easy diaper changes with a busy toddler and also great for my newborn as well. Very soft and durable. I wouldn't do a diaper change without it!

My mother-in-law got this for me and at first I was skeptical, but wow this thing is amazing. Now it goes everywhere with me and baby Ben.

I saw their post on instagram about the new adapter working with desitin, and decided to give it a try as i hate the smell that lingers. I first tried the included tube that it comes with, which does work, but using the adapter with desitin is life changing. Will be ordering this as shower gifts for any friends or family that are having a baby.

This product is made of thick soft material that allows a solid application of diaper rash cream of one's choice without the mess getting it all over your hands to complete the diaper change. It's also a good size that can be easily packed in the travel bag and good on the go!

This is a great little product to help with applying lotion to a wiggling baby. Only downside is when it gets a little low it's a little hard to squeeze and use and whole baby at the same time.