A placeholder for your essentials
Keep your phone and baby bottle handy while daily strolls with your infant. No more fumbling with your pockets or purse when what your baby needs (a milk bottle) and what you need (admit it) -- your phone -- are securely stored in an easy latch-on solution.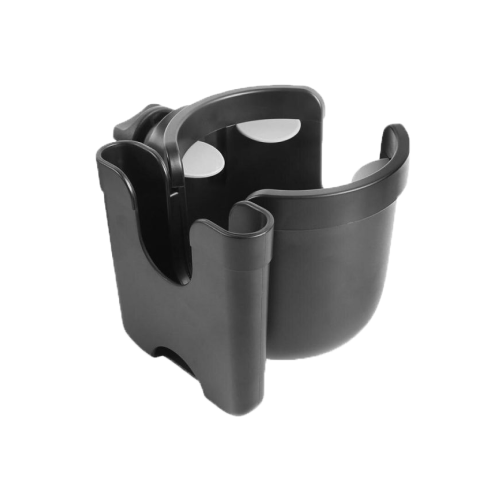 Keep it all within reach
Installable right onto the handle of your baby stroller, you can easily have your baby's milk bottle (or your morning coffee) -- and phone (of course) -- right within reach. This will allow you to push your baby's stroller at full attention and ease. The holder is adjustable 360 degrees to any angle for your convenience of reach.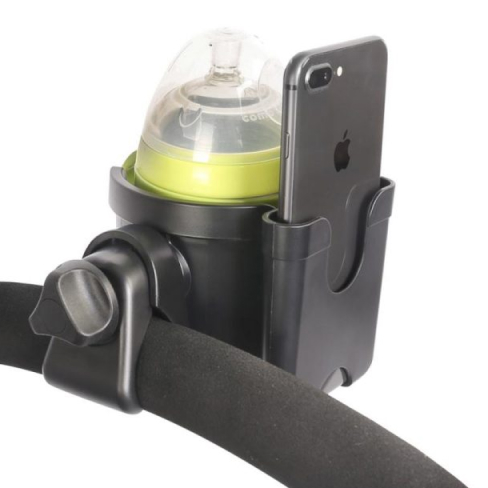 No spills or falls
With a secure cup holder slot and deep phone slot, your drink and phone will stay sturdily in place, without any unwanted accidents on the road as you take your child out for some sunshine or fresh air (or out shopping).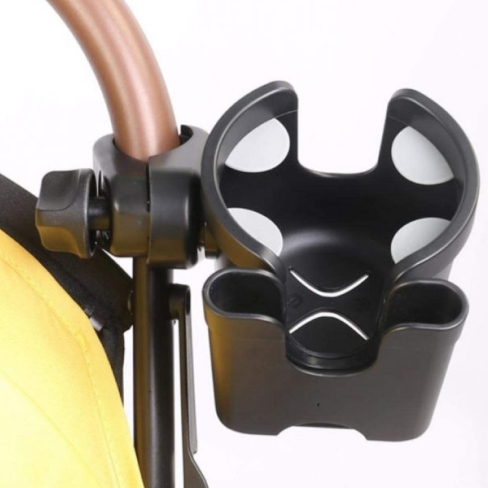 Count on it
Built from sturdy ABS plastic and slip-resistant rubber, trust our holder to keep your must-haves right in place without fail. No flimsy clips or weak grips here -- everything is secured in place (safely) for reliable, on-the-go usage that holds up whether you're strolling in sand or gravel or grass.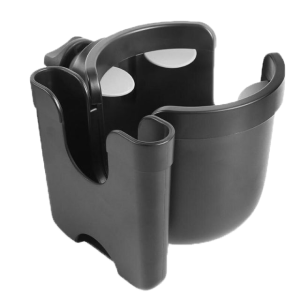 Not just for your baby
Not on baby duty? You can still bring our Cup and Phone Holder for Stroller around with you and attach it to shopping carts at grocery stores, your bike, scooter, or bicycle. It's an incredibly versatile item for the ultimate convenience to free up your hands and pockets.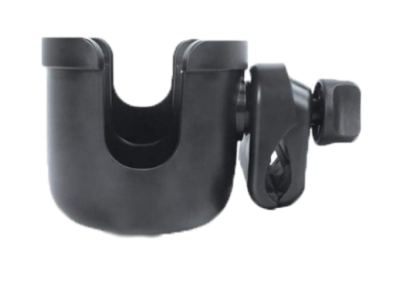 Reviews
Our reviews are verified for authenticity
This cup holder fits perfectly on our Uppababy Cruz and also fits on our neighbor's Vista. It has a snug hold and our drinks don't spill over, no matter how bumpy our ride is. It also has a slot for a cellphone and our iphone XL fits in.

This works well and is easy to install. I wanted it to hold my cup of coffee and it serves the purpose. I don't use it for my phone because I'm too scared someone is just going to snatch it and I won't see it. One improvement (and hence the 4 star) is that there could be some way of shock absorbing. I don't know how that is done but the cup holder in my car for example is very good at that.

This stroller cup holder isn't just for strollers, but for anything that has a bar or pole. Because the loop can be loosened it will generally fit on any device 2 inches or smaller. It is easy to put on and is a large enough cup holder to fit a larger cup than usual. The phone slot is a great addition as wel

I love it. I bought this for my bicycle. Holds my iPhone and drink with no problem.

I use this on my Schwinn cruiser for my "coffee". Works fantastic. It's great to have a place for my phone too.

Great grip! Easy install and fits my iPhone X

This fit nicely on the handle bars. And holds my coffee mug perfectly!

Large enough for an iPhone 11

Just what my husband ordered. The holder keeps his phone secure when he is riding and he can take his coffee or water along on his bike ride.

I attached it to my bike, works great!

Really good but I didnt realise the phone box is too small to fit a phone that is in a wallet-kind of case. Not a big deal, still good and practical

Item is as described and works well

I bought this cupholder to use on my Uppababy Vista stroller, which fits perfectly. Cupholder is nice, simple, budget friendly and most importantly sturdy. What I like most about this is that I'm able to fold my stroller without having to worry about the cupholder being in the way. There's also a purse hook which has definitely been coming in handy. Definitely happy with this purchase.

I got both this one and a different design from a different brand. I mounted this one on my side of the bed (the headboard is made of metal bars), and I mounted the other one on my partner's side of the bed. The one I got for her can accommodate fatter bottles, which she uses more often than I do. I am very satisfied with mine, but today my partner told me she doesn't like hers, and asked me to order this one for her as well. It's super solid, with a nice, grippy clamp, and it holds both skinny cans and regular cups. Very fat bottles wouldn't fit, though. It's also easy to install.

I put one drink holder on the ClicGear golf cart and another on the beach cruiser. Perfectly hold my stainless steel Takeya 20oz bottle.

The excellent cup holder firmly holds cups of all sizes

The holder fits baby bottles and larger cups, including my daughter's 16 oz Tervis Tumblers. Time will tell how long the silicone pieces hold up. I am not a fan of the phone compartment. I just do not want to put my smartphone so near a cup of liquid. Plus, there is also a chance of a kiddo grabbing the cup and accidentally knocking the phone out. Bottom Line: If you need an extra cup holder, it is a good option to consider, but use the phone compartment at your own risk.

It's easy to set up. It took me three minutes to set up. It doesn't shake. And it holds my phone. So I don't have to worry about my phone

It's sturdy and holds any waterbottle or cup perfectly

I'm using the cup holder mounted on an exercise machine.

The latch is weak. I like the functionality

The cell phone slot = an excellent addition to this classic cup holder design. So often I'd find myself taking up the cup holder with my cell phone, so having the dedicated pocket is a great way to free up the holder—without adding much bulk to the design. I'm quite satisfied with this product so far.

Works exactly like described. Fits the larger iPhone 8.

The excellent cup holder firmly holds cups of all sizes, it is easy to install, effectively locks into place without slipping, and is structurally very strong. Cups with handles can be neatly placed all the way down into the bracket. If the handle is higher on a higher cup, it can be mounted or supported well enough.

I loved how easy it was to install, it's very sturdy no problems so far and no need to adjust it. I feel like my phone is safe and not going to bounce out.

overall i like this cup holder. It's sturdy and holds any waterbottle or cup perfectly. unfortunately, my phone, which has a super slim case on it, doesn't fit in it well. it gets stuck and i have to pull it out. however, the smaller iphone fits just fine.

Our daughter recently had knee surgery and we use this on her walker so she can bring a water bottle and phone with her as she recovers. Since she has to use her hands to carry her weight on the walker, she needed help with her phone and incase of an emergency, she always has her phone handy. This holder helps her move around, by ensuring she has her phone, but also her water or drink! We also use it on her wheel chair so it is always with her and she LOVES it!

Used these cup holders for my Segway scooter. They fit perfect and carry drinks great.

My dad recently started using a Drive Walker Roller and needed some place to house his bottled waters. I picked these because I love that they are easy to install and have a metal screw. the plastic construction is versatile and really good quality.