Teach your kid through play
Introduce your child to a world of animals from A to Z
Kids get to make a colorful stegosaurus while learning colors and letters with this puzzle by BeginAgain. Alphabet- and puzzle-based problem solving come together to make this chunky wooden dinosaur come to life. Made from durable rubberwood, this wooden dino puzzle teaches the alphabet and inspires dinosaur tales.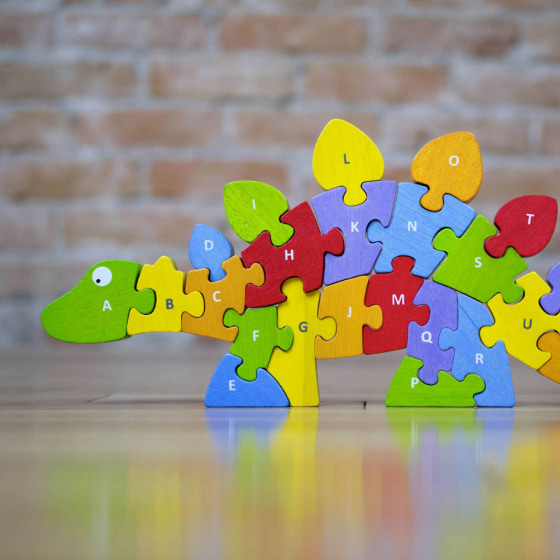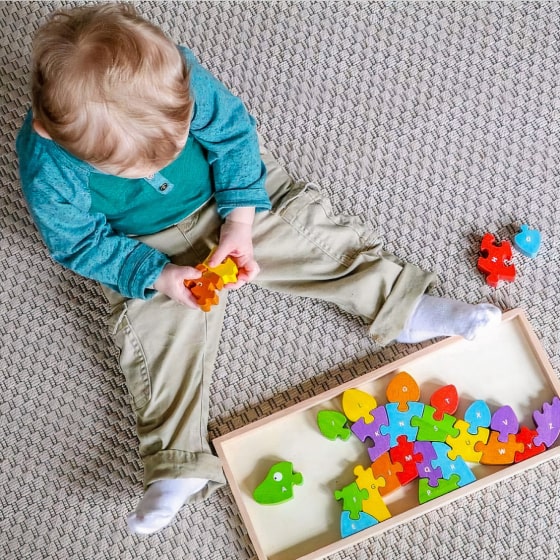 Build, experiment, and learn
A creative mix of old timey storytelling and responsibly crafted invention
Educational fun for toddlers
The Dinosaur A to Z Puzzle from BeginAgain makes learning fun! Your little one can learn the alphabet during playtime that also helps to improve problem-solving skills and creative thinking!
Inspires play and teaches letters
Each piece of this learning game puzzle has a lowercase letter on one side, and an uppercase on the other. Once all the pieces are in place, watch learning come to life – this dinosaur toy can even stand up!
Made from plants before plastics
Puzzles, toys, and games from BeginAgain are made from sustainably grown rubberwood. Grown on farms, not cut from forests. NO plastic worries - NO BPA / NO phthalates.
Finished with water-based child safe stains
These toys are finished with stains and not paints, and water-based stains are used for the safety of our toys.
A learning game to love
Whether getting lost in the letters or scheming and making stories about this superb stegosaurus, a world of exploration awaits in this children's puzzle, educational game and dinosaur toy, all in one!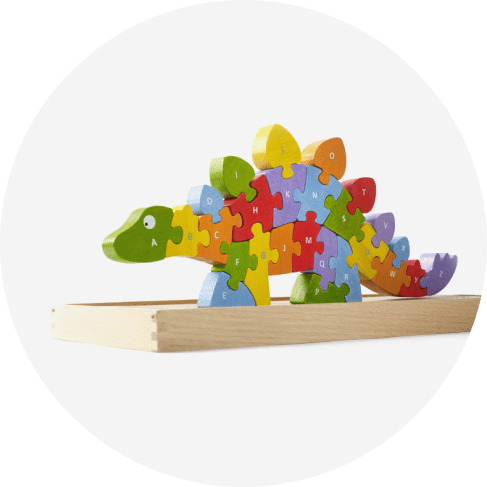 About BeginAgain
BeginAgain is an eco-conscious toy company based out of Fort Collins, CO, who specializes in toys for children 6 months to 6 years old. We design and market toys that are fun and develop the child across all stages of toddler and preschool life, both mentally and physically. Our products are made from 100% sustainable materials, so they are child safe and most importantly mom trusted! Our brand is seeing tremendous growth as a result of: 1. Our sustainability message is resonating with consumers & retailers. 2. We use rubberwood, water based stains & natural rubber for entire product line. 3. Parents are looking for toys that reduce screen time for their children. 4. The revolt against plastic is very real & parents are looking brands not using plastic. 5. BeginAgain has grown as a very authentic voice that parents, grandparents & educators really love.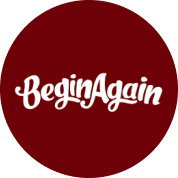 Designed In
Fort Collins, Colorado
Reviews
Our reviews are verified for authenticity
My 4 year old grandson loved this gift! Great fun for us both!

Beautiful puzzle. Small parts not safe for small children.

What an incredible product! It's the coolest one I've bought for the kiddos in the family. It's colorful, fun, and it's in the shape of a dinosaur!

It's a beautiful puzzle based on a great idea but is a little too difficult for my 5 yr old grandson (who loves puzzles and dinosaurs).

This is a gorgeous puzzle that would be great for a child who has just mastered the alphabet. The puzzle can be built standing up, but young users might find that too challenging and/or frustrating. The box offers an excellent spot for assembling the puzzle.

Lots of use with the grandsons. It is fairly easy but with some tricky spots and they need to pay attention to if it's upper or lower case. To make it easier, flip all the pieces to choice of upper of lower case for them first.

I ordered several of the BeginAgain puzzles for nieces, nephews and grandkids for Christmas!! Wasn't sure about the quality when I ordered, but I am happy now that they have been delivered!!! The are all lovely and quality!!! Can't wait to see all of the happy faces when they open them!!

This product was even better ! my grandkids loved it. My grandson who is 3 is in the process of learning his ABC's and loves dinosaurs so this was the perfect educational gift for him! One side has the capital letters of the alphabet and the other has the lowercase letters so it teaches the alphabet on both levels! Great purchase - materials are quality, solid and a perfect size for little fingers.