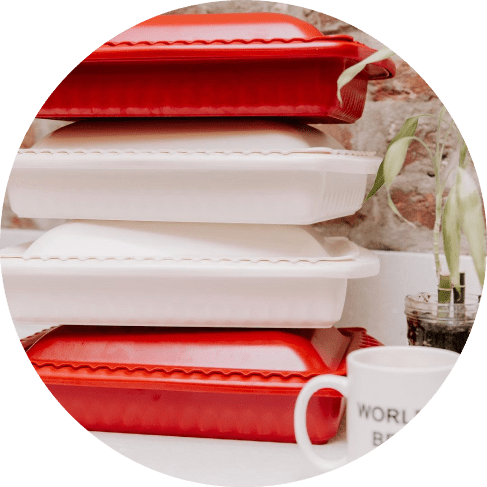 Red Serving Carrier for Foil Pans
Behold a patent, award-winning, all-in-one serving & casserole carrier for foil pans! It gives you the look of a casserole dish, but made out of plastic.
Features & benefits
Why use the Foil Decor carrier
Multifunctional & stylish
The snap-on lid can be inverted and used as a bowl when serving your favorite dip in style. It works great for chips, crackers, buns, etc.
Perfect for any occasion
The only choice for potlucks, holiday events, tailgating, parties & picnics. Dress up your foil disposable baking pans in this bold red color at your next dinner party.
Heat-resistant & durable
This sturdy plastic casserole dish with a lid is heat-resistant and can house aluminum baking pans up to 375 degrees Fahrenheit.
Excellent for house parties
No need to wait till your guests finish their meals. Take your foil pan out of the Foil Decor system & leave it for the guest to enjoy.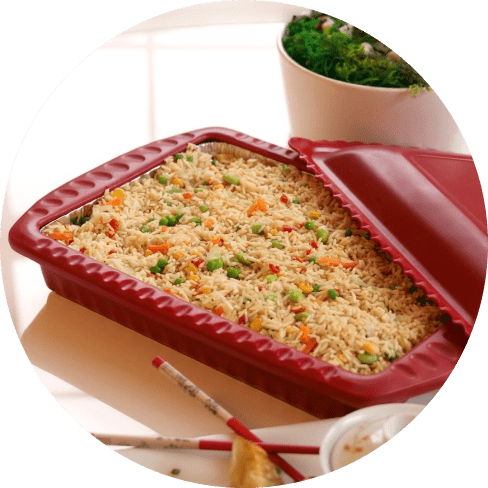 How does the Foil Decor carrier work?
There are three components included: the base, the ring, & the lid. Place the foil pan directly into the base, secure the ring on the base over the rim of the pan. The ring then snaps in place securing the pan.
Safe and easy to transport
This system locks your foil pan in place to reduce spills. Its heat-resistant plastic handles allow you to carry it safely. The lid snaps securely in place, sealing in heat and preventing spills.
What makes our product unique?
Improving the experience of serving food for events
A common problem with foil pans is they are flimsy, not attractive, and hard to transport. This serving carrier has 3 components that work as a system to lock your foil pan in place. This turns your disposable foil pan into an elegant casserole dish. The components are reusable, super easy to clean, and stackable. Take the foil pan straight from the oven, put into the carrier, and off you go! We include 2 foil pans in the package.
Reviews
Our reviews are verified for authenticity
Great product, very sturdy

Makes taking food a breeze. No wrestling with just a flimsy pan. I'm in love with this!!! Easy clean up.

Took to a cookout and it was so easy, and the lid kept my food safe.

Love this for our camping trips. Excellent for tailgating and pit lucks. Sturdy construction, well thought out product. Must have and definitely recommend this, over the competition.

This server is wonderful! The two in one function of the top being able to be used as a chip bowl makes it even more appealing. Great Find!

The pan looks very sturdy and I'm very useful but I can't open it with my arthritis hands it's very difficult to get the foil pan out it needs to be easier to get it out

Excellent product! Very sturdy and reusable. A great hostess gift.

Love, love, love this product! From oven to table...Is attractive and practical. The lid doubles as a serving tray which is perfect for chips or bread etc!

Where have you been? A great addition to my kitchen. A great product, I'll get a lot of use out of it.

This is really nice for carrying a dish to a church fellowship or family dinner.

I waited to give a review until I used it a couple of times. Love it! Not only does it look pretty, it travels well and keeps my food warm. I found my Christmas gifts!!

Phenomenal product for entertaining and easy to clean and store. Very affordable price. Highly recommended. ❤️❤️❤️

Great product. Easy to use and makes transporting or putting leftovers away easy. With the foil pans less mess and easy cleanup.

This is such a great product! I love that it makes my food still look pretty without the crazy mess of my normal casserole dishes. Everyone needs one of these for parties and holidays.

Wow, I was Impressed. I really love everything about this product. The sturdiness, how the handles hold the heat and it doesn't hurt your fingers, the coloring even down to the packaging. I highly recommend this product. I will be buying some more as gifts.

Love this! About to buy for all my friends. Classy for taking items to events and I was able to leave my foil pan with dip behind. I loved that it was dual purpose and I could use the lid for crackers and chips with my dip. It traveled well, maintained product temperature, and was super sturdy. Well made and travels well. Definitely recommended.

I really enjoy participating in potlucks at work and I don't enjoy trying to figure out what I'm supposed to put the food in.. those flimsy aluminum pans bend and usually leak and if I use my nice containers and casserole dishes sometimes they go missing or get broken. This is such a cool idea! As much as I love cooking, I don't wanna present something I've spent some time on in an aluminum foil pan. They say don't judge a book by its cover, but we all do it.. this product has such a tasteful design that allows me to disguise my disposable aluminum pans. You can pop out the pan when you're finished to leave the leftovers behind and you don't have to fuss with any clean up. It would be a great way to give a meal. I'm gonna get so much use out of this clever idea. I can definitely see myself purchasing these as gifts for all of the PTA moms I know.