No fuss or makeshift spaces.
Create a safe, clean surface for changing your baby's diapers. No more icky changing stations in public bathrooms or needing to use a park bench. Our super-convenient Waterproof Foldable Changing Mat for Newborns is any parent's must-have for easy on-the-go care for a little one.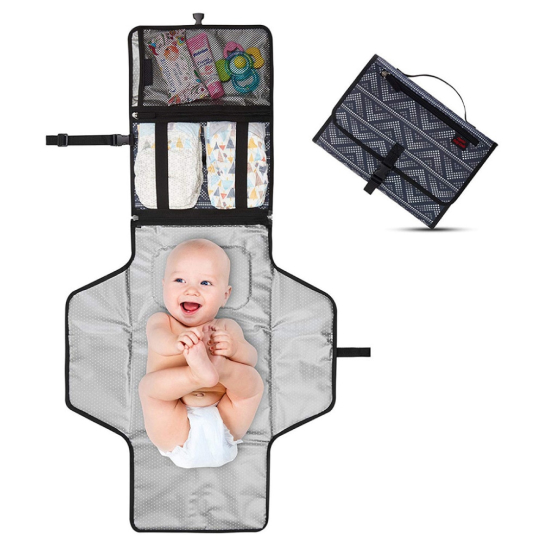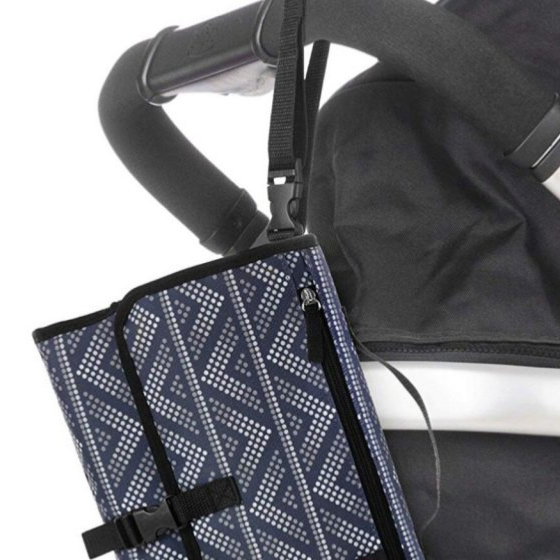 Carry with ease, clean it ease
When folded, the Waterproof Foldable Changing Mat for Newborns features an adjustable buckle strap, making it easy to cling to a stroller, purse, or your wrist. It weighs a mere 10.6 ounces for a bulk-free changing solution for your baby. After multiple uses, you can clean the pad with soap and water (do not machine wash).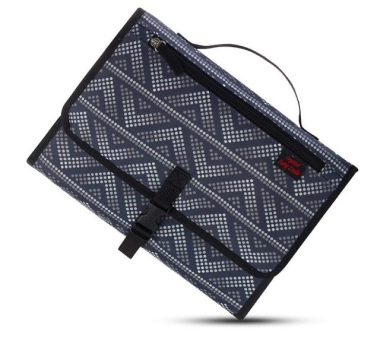 A soft, comfortable place to change
Constructed of nylon and oxford cloth, our mat folds out for a cushy changing station. The mat is padded throughout with 5-mm-thick sponge for all-over comfort, plus a padded pillow for added support. No hard plastic or sticky rubbers. Lay your baby down on 25.2 x 22 inches of lush space for peace of mind for you and your little one.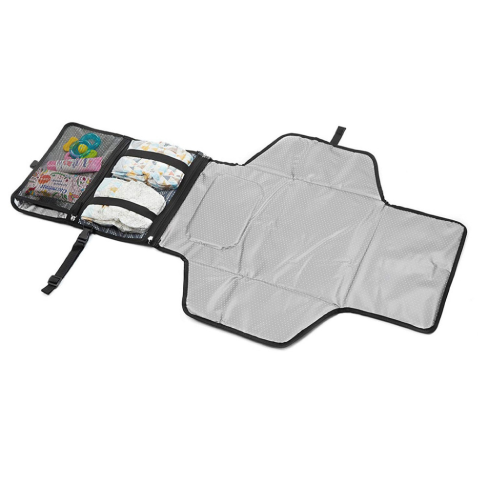 Storage space right where you need it
No extra diaper bags or carry-alongs needed (how's that for a change?). Our changing mat features an interior mesh pocket and an exterior zippered pocket for convenient carrying space for diapers, baby wipes, creams, toys, and more for an everything-in-one solution. The interior storage pocket detaches easily to give your baby complete, isolated comfort on the changing mat, all while letting you easily access products. Minimize your bulk for less hassle today!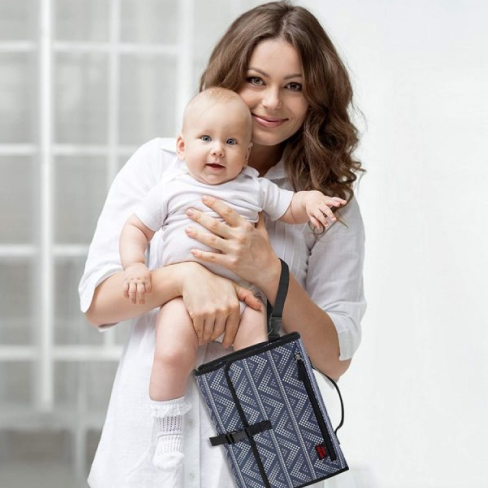 A thoughtful gift
Our mat is an exceptional gift for any expecting mother or couple to a newborn. The unisex pattern design also makes the mat blend in well anywhere with a modern look, making it non-binary to male or female children (it's just a neutral-design bag). The changing is life-changing and incredibly convenient to have. We believe any parent will appreciate this mat over using hard plastic changing tables in a public restroom or using the backseat of their car as an impromptu changing space.
Reviews
Our reviews are verified for authenticity
I got this for our second child and I LOVEEEEE it! This changing pad is a quality one – the material feels SUPER NICE and SOFT to put the baby on and I have experienced other ones in the past that are very 'plasticity'. I bought this for myself and I will definitely recommend to all my friends/ buy as a gift. The design is modern and stylish. All the compartments are in a good size, so I can just put the few things I need when we go out for errands. The changing pad it self is a good size so we will be able to use it for the long run plus very easy to wipe and clean off.

Conform to the description, perfect, good size. Thank you very much

While I like the idea of this product it doesn't actually hold that much and be able to fasten. I have nappy sacks, wipes, cream and about 5 newborn size nappies in the pockets and it doesn't close so sort of defeats the object as I wanted to be able to keep all things changing related in this and separate but will have to also put things loose in changing bag

I like how it's lightweight and easy to carry around. Wish the changing area was a little larger as my 1 month old can no longer use it as it's too small for him now

We bought this after our newborn was here and she peed on our couch during a diaper change. Coming from a 3rd time mom here, changing tables are nice and all, but you'll find yourself putting your baby on the closest safe piece of furniture typically for a diaper change. During the daytime for us, that's usually the couch. This just gives you piece of mine and offers a bit of protection when changing your baby on those alternate/not waterproof surfaces. It's a pretty basic product. Long enough to serve its purpose. Thick enough not to be flimsy. It folds up and Velcro's closed for portability. Would also be great in a diaper bag.

Very convenient and easy to use. Perfect size for on the go, in which it is easy/fast to clean. Headrest can have a bit more cushion to it but overall it's a good gift to give.

t's a great but it is too big for a diaper bag so it better to carry alone it self (for my part) Zipper did come apart when I first got it as I was putting my things in but in fixed it and it has help up great

It will do the job and that's all that matters. It's cheaper than the name brand, the quality might be a bit different but it still does the same job. It's cheap enough so I wouldn't mind buying one again in a year when this gets messed up

Product same as in the photo. Very easy to open and close. It barely weighs anything or occupies space and the material is easily cleaned. Very happy with the purchase.

I bought this to use with my second baby. Just wish I'd got it with my first! It's so much easier having the wipes, nappies and bags all in one place rather than digging around for them in a changing bag. Like the design!

As a first time parent I'm a bit overwhelmed with the amount of products available for new parents so just bought this on a whim (there's only so much time you can waste searching for the perfect changing mat). It arrived quickly, folds up nicely, has a nice design. I'm not really sure what more I could want for something to change poopy nappies on!

I'm a childminder ..sometimes I have to change a baby while out and about ..this is perfect .. can store nappies wipes ect with this so always to hand ... I'm pleased

Changing mats like these are good in theory.. but completely unsuitable for cleaning up poosplosions (your carpet will be ruined) or if your baby likes to spit up or pee mid change (as ours does!). We used this mat twice before switching to a larger mat that has the raised edges, to keep nappy contents contained!!

This is a great pad! Soft, wipeable, with handy pockets. It's bigger than I realized. I do wish it folded up one more time because it's not a very convenient size to just grab and take on a quick trip.

Easy to clean and good kit for travel. Unlike other changing pads it's large, so your baby doesn't outgrow it so fast but bulkier and occupies lot of space in bags.

I really like this changing pad. It's a little bigger (not giant size) then the other one I bought which is great because when baby moves she's still on the pad.

The diaper bag I have didn't come with a changer, so I purchased this one. Loved the quality of the material, how easy it was to fold and the stylishness of the product. I am giving this to my son as a shower gift in a Daddy's diaper duty survival kit. The colors are neutral and suitable for boys or girls.

It's a great bag for short travelling. I use it every where I go.

I bought a similar product before my baby was born and it ripped in the first 3 days of using it. This one is so much better.

I purchased this before a trip and I wish I bought it sooner! Love love love this product! It has the perfect amount of storage compartments for everything you need while changing a babies on the go!

So cute, love it, perfect if you ars just running to store,more protection when using public changing table

Lovely and neatly made and perfect when you don't want to take your entire nappy bag out with you. I love this product and it makes life easy.

I thought this may turn out to be cheap rubbish or totally unnecessary, but actually it's great! Handy to grab if just nipping out, or add to full change bag if out longer. I fit four size 3 nappies, a half pack of wipes and a few nappy bags without problem, and have no need to add more.

I purchased this bag in preparation for my baby arriving next month. Although I haven't used it yet, I know it's going to be amazing and was exactly what I was looking for (I'm a second time mummy and know the difficulties that come with trying to change a baby quickly).

Absolutely fantastic changing bag/station. It looks beautiful and has many compartments to fit in all the bits you might need for your baby.

So happy with it!Been using this mat for two months now no issues at all.Plenty of pockets for all the basics.I carry few nappies,pack of wet wipes,bags,change of clothes and the front pocket is perfect for a money,card or keys.

This is a must have for your diaper bag and late night diaper changes. When you are exhausted and just need to feed, change and go back to sleep you will be so happy to have this quick solution by the bedside. The quality is great. It easy to clean. Great changing pad.

I love this! It stays in the car with extra diapers and wipes and whenever we're out and about and don't need to carry the diaper bag, we just simply take this and strap it to the stroller. It's so convenient and Carrie's a lot of extra diapers. I have and infant and a toddler, who's still in the process of potty training, so I carry two different sizes of diaper and it holds up perfectly. I carry about 4 diapers of each size, wipes, the travel size diaper cream and baby powder and it's been holding well so far.

single dad of twns boys. pros: light weight easy for home use or out and about. holds everything you need im a change bag cons: more variety in colours

We haven't used this yet as baby isn't here, but it's better than we expected! Perfect size, looks & feels comfortable & enough pocket room for spare nappies & wipes.

I love this! I use it in her changing bag but also take it around the house when she needs a quick change so it's pretty cool

I'm a single mom living in a studio in Hawaii - baby girl and I make it work because you gotta make some sacrifices when you're living in paradise. A studio means there's no room for a nursery or dedicated changing table. With the pad basically any and every surface works as a changing table; the floor, bed, couch, the coffee table that's used as a desk and dinner table lol. I love the pad! Pro Tip: always use the logo tag as the direction in which you put baby's head

I love this! So easy to use, so handy to have and put on top of fold down changing tables in public. Pockets for nappies and wipes and would definitely recommend to put in your changing bag.

This changing pad is a bit smaller than the old one I had, but I actually like that, because the old one was too big for my diaper bag. It has enough storage space, and the pad and cushion pillow was very comfortable for my little one, he hasn't cried much when I used the changing pad to change his diapers. The changing pad is also very well made. The no threads running everywhere like other brands on the market. I am hoping to keep this for at least a year.

I was thinking to buy single use and disposable pad, but it wastes money if I buy too much and don't use all. this diaper changing pad is reusable, great for travel, pretty light, and easy to fold and carry. no need to worry about the dirtiness of the changing table. easy to clean, just use the wet towel to wipe it down. I can use it anywhere, and I always carry it when I go out with my baby. I can easily store it at my diaper backpack or just hang in at the handle of car seat.